At Wm Boyle, we not only supply you with the products, we also provide some of the tools that will make installing your coving and cornicing a lot easier.
A coving mitre box is a tool that aids sawing, providing a stable platform to make precise angled cuts without having to measure and mark out the measurement before every cut. Mitre boxes offer a hassle free experience and can save you a lot of time as they assist with both straight and angled cuts, holding materials in place and stopping the saw blade from moving.
Our Mitre box products come in a wide range of styles and sizes but are all designed to perform the same task – to aid cutting precise straight and angled cuts, typically at 22.5 degrees, 45 degrees and 90 degrees. Most are used with hand saws but they can also be used with a variety of saws to cut almost any material including wood, metal and plastic.
Read more »
Variomatic professional mitre box. Includes carry case, saw, angle finder & other accessories.  
This deluxe mitre box suitable for cutting all of our Orac covings, cornices, skirtings and wall panel mouldings measuring up to 275mm x 225mm.  
Compact Mitre Box.  Suitable for cutting mitres on coving, cornice, skirting and wall panelling mouldings which measure up to 12.5cm x 15.5cm.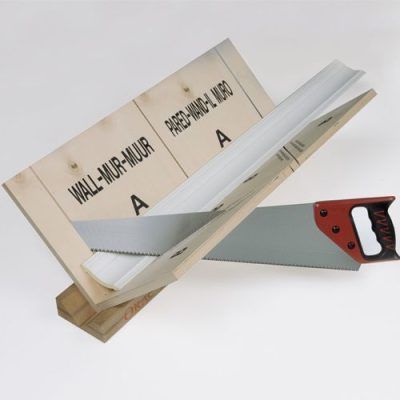 Large wooden mitre box supplied with specialist saw for cutting mitres of cornices, skirtings and wall panelling mouldings measuring up to 27cm x 27cm.