The Orac collection of uplighting coving and cornice are designed to be used with a range of LED or tube lighting systems.  These concealed LED lighting covings are designed as a trough shape to allow the dispersion of the light upwards and provides a soft lighting effect.  This uplighting coving range include designs suitable for both period properties and modern built homes.
All of the cornices are finished with a white primer and are ready for installation using our specialist Orac adhesive and tool products.
Free UK wide delivery on all orders over £90 with no extra charge for Highlands & Islands.  
Delivery charge on all online orders below £90 is now only £10.00.
Order online today or call 0141 429 1218 to place your order.
Showing 1–25 of 36 results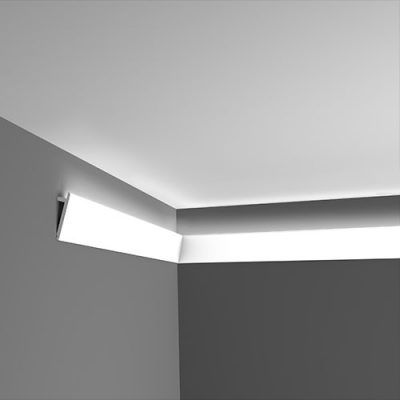 9.7cm High x 2.9cm Projection. Contemporary, diagonal shaped uplighting coving / cornice.  This is one of the latest designs from the Modern collection and it creates a simplistic, angled line around the room whilst allowing light to diffuse upwards. Supplied in 2 metre lengths.  Lightweight Purotouch or Flexible Purotouch.
Showing 1–25 of 36 results