Description
Extra small, plain, flexible coving / cornice.  The Orac C250 flexible coving is our smallest bendy cornice and is perfect for simply finishing the edge between wall and ceiling, giving you a nice flat edge to paint up to.  It features a plain, concave shaped, 'Scotia' profile and can also be used as a skirting beading.  Our Orac curved covings are the ideal way to finish curved walls and bay windows.
Please check our guide to ensure that this flexible cornice will bend to your curve.
Product size – 1.6cm High (Wall) x 1.6cm Projection (Ceiling)
Length – 2 metres
Material – Flexible Purotouch
Use along with C250 straight cornice and only order the flexible for the curved area as the two will match perfectly.
DESIGN IDEA – Use this small bendy cornice to finish around a column top.  The moulding may need to be cut at a point and re-joined, depending on the diameter, but it will add detail to an otherwise plain column.
Product Enquiry
Downloads
Related Products
1.6cm High x 1.6cm Projection.  Extra small, plain, polyurethane coving.  The Orac C250 coving is the smallest profile in the Luxxus range and is perfect for those just wanting a minimal finish between ceiling & wall. Lightweight Purotouch. Price per 2 metre length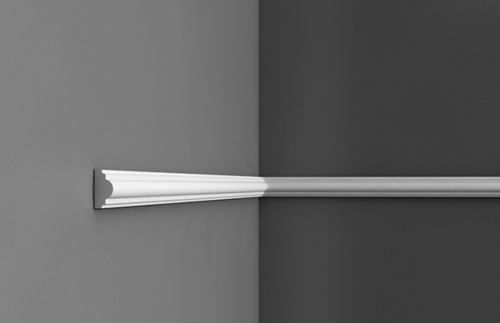 2.5cm High x 1.2cm Projection.  Small, plain, lightweight dado rail / panel moulding.  Create stunning wall panelling using the Orac PX103 moulding. Wall panels can be easily formed by cutting this plain moulding to the sizes required then gluing straight to a plain wall. Lightweight Duropolymer or Flexible Duropolymer. Standard and Flexible – Price per 2 metre length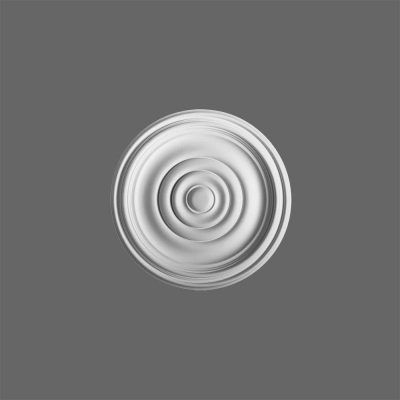 38cm Diameter
Small, plain ceiling rose.  The Orac R08 ceiling rose is perfect size for smaller rooms and low ceiling heights such as bedrooms or hallways. This small polyurethane ceiling rose is the perfect way to add period features to your traditional or modern build homes.
Lightweight Purotouch.