How To Install Wall Panels
Wall panels evoke style and create character within any home. From the grandest of Victorian and Edwardian properties to modern minimal new builds, wall panels can give your interior the wow factor.
Our collection of wall panels will give your walls an instant lift and enrich your space with either decorative or simplistic mouldings. Finished with a white primer, our mouldings are easy to install and ready for that final touch of paint in order to reflect the existing colour palette of your room.
In this article, we will show you how to create and fit a wall panelling effect using our panel mouldings. We will also highlight the tools you will require and how to apply adhesives.
Before you start glueing panels to your interior walls, we recommend storing your panels and adhesives at room temperature and waiting 24 hours before installation. We promise you'll get the best results this way!
What You Will Need
Everything you need in order to install wall panels correctly is listed below.
Measuring tape

Protractor

Pencil

Mitre box & saw

Whether you use a compact box, Variomatic mitre box or large wooden mitre box, you'll achieve the same results so don't panic over choosing which mitre box to use.

Caulking gun

Protective equipment including a face mask, gloves and overalls
Step By Step Guide To Create A Wall Panel Effect
Our dado rails have endless design opportunities and can be used to create a variety of panel styles including a floor-to-ceiling panel effect. For example, our SX157 panels have been used to create this beautiful and elegant panel design.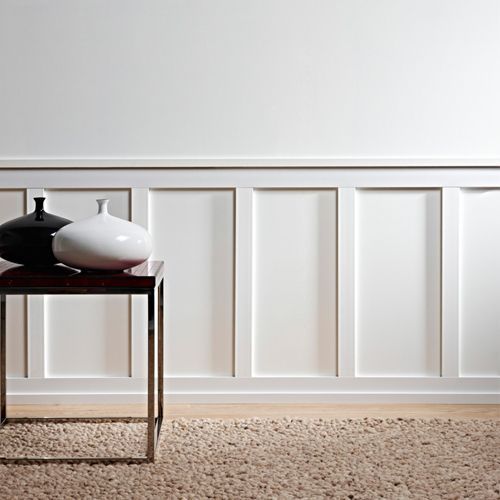 Before you start, make sure your wall surfaces are flat, dust free, sanded down and grease-free. If you can tick the above off your checklist, you're good to go!
Step 1 – Prepare your working area
Before you start fitting your dado rails onto the wall, protect your floors and lay tarpaulin down or a plastic sheet. This isn't a necessity but it helps with the final clean up plus, you'll be relieved that your flooring is still in good condition and dust free after your DIY efforts.
Step 2 –
Measure and mark your walls
Our dado rails often come in 2-metre lengths therefore you'll need to decide how high you'd like the panels to sit and the style of paneling you wish to create before making any markings. Once you've decided on the style and height, take your measuring tape and start marking up your walls. This will give you an indication of the lengths of dado rails you will need in order to create a panel effect.
In order to create a rectangular wall panel effect as shown in the image above, you'll need 4 panels with 2 different lengths. Each of these panels will need to be cut at a 45-degree angle at the top and bottom of the rail in order to allow these panels to join and create the rectangular panel effect. Please see the example below for reference.

After you've got your measurements, we'd recommend marking the rest of your walls with tape or light pencil marks as a design guide. This will allow for easier installation as you are just sticking the panels on top of your original markings.
Step 3 –
Cutting your panels
Once you've got your measurements, make sure you set the mitre box to the right angle size and direction. Place your dado rails into the mitre box and start cutting!
For every panel make sure you repeat the steps mentioned above to ensure your dado rails match your measurements.
Top tip: Make sure you secure the panels into the mitre box to avoid disruption and movement during sawing. This will ensure a clean and smooth finish.
Once you've got all your panels cut, check that the corner pieces fit together before fixing them to the wall.
Step 4 –
Choosing your adhesives
Orac dado rails/wall panels are made of a lightweight duropolymer therefore no screws are required to fit your panels to the wall. There are various adhesives available to fit Orac wall panels and you'll need two adhesives to create your final look – one to fix the panels to your existing wall structure, and one to join two wall panels together for example, for joints and corners.
We've listed three Orac adhesives that you could choose from. Each adhesive comes in various sizes in order to meet the needs of your project.
Step 5 –
Application of adhesives
Open your adhesive, attach the nozzle and as per the instructions, insert the canister into your caulking gun.

Pick your dado rail and apply the adhesive to the back of the panel areas that directly touch the wall. Be consistent with your application. Apply the glue across the entire stretch of the panel, do not apply in blobs.

Firmly, press the panel design onto the wall, ensuring you work along the length of the entire rail.

An excess adhesive may spill out the sides of the moulding, don't be alarmed, this is normal. Remove the overspill with a spatula and damp cloth to ensure a clean finish across your walls.
If you're more of a visual learner, we've got you covered, we've attached Orac's step-by-step video below. This takes you through every step and shows you exactly what you need to do in order to create that detailed wall panel effect you've been longing for.
View our full range of 'wall panels'.