How To Measure Coving Sizes & Width
When measuring coving sizes, customers often ask us what size they should go for. Although it is mainly down to individual preference. We've come up with a few tips on how to measure plaster coving. From coving sizes, to coving dimensions, read on to find out more and narrow down your choices.
A lot of the time people can misunderstand the measurements when measuring the actual size of the coving. The majority of the time, measuring coving size is always given in terms of the height of how far the coving extends down the wall from the ceiling, along with the projection of how far the coving extends across the ceiling from the wall. This is often confused with measuring the diagonal face across the front of a piece of coving. For example, we sell coving that is 15cm high and 12cm projection, this means the diagonal face will be around 19cm long, however this is not stated in many coving descriptions.
Find the Right Coving Size For You
When choosing the perfect cornice for your home or commercial space, the determining factor will depend on how much prominence you wish the coving to have within your interior design. 
We would recommend going for a size that is in proportion with the height and size of the room. We understand that it can be difficult to imagine how different coving sizes will look in a room, therefore we would always recommend buying and testing a sample of the cornice to be sure. Contact us and we will be happy to supply some samples of your choice.
Small Coving & Cornices
If your ceiling height is below 2.75 metres (9 foot), our small coving and cornice styles are the ideal size as they can offer the perfect sleek finish between any wall and ceiling joint. As well as finishing off a space such as a living room, our smaller coving looks great in spaces with tall units and cabinets, like kitchens and bathrooms.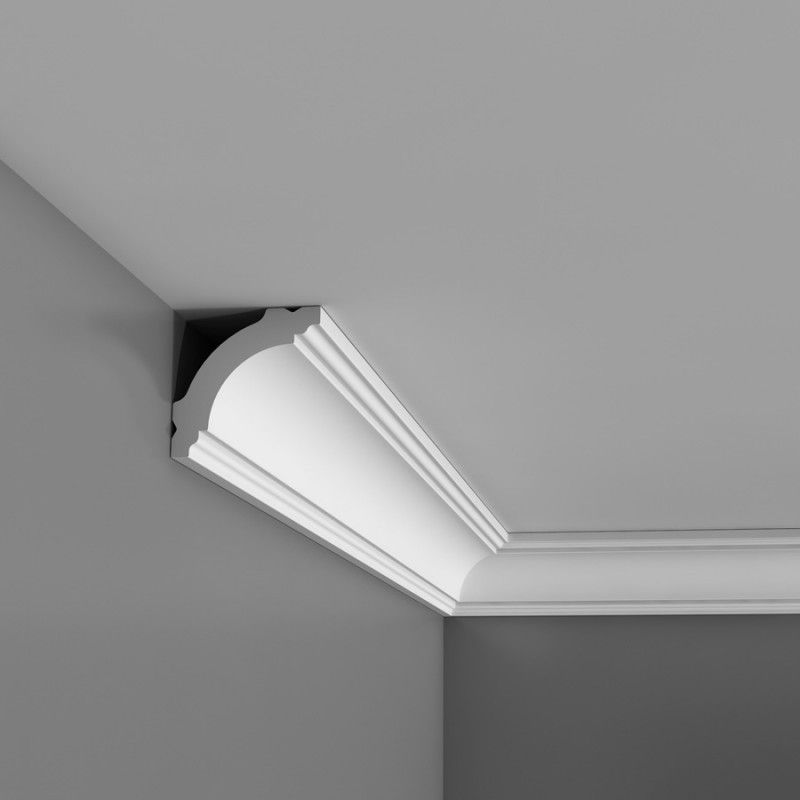 Medium Coving & Cornices
For the majority of spaces and homes, our medium sized coving will be suitable. For example, our C353 'Kent' coving or our C355 'Manchester' coving are a good choice for contemporary spaces and homes.

Large Coving & Cornices
Our larger coving and cornices are often used for hiding wires and pipework, and can usually be found in larger rooms with high ceilings which are common in older Victorian properties. It's important that you only choose this size if you are sure the coving will be in proportion with the room. For example, our C307 'Kensington' lightweight cornice is 19.5cm high by 19.5cm projection, therefore we recommend using this in rooms with ceilings at least 4.3 metres high (14 foot). This type of coving looks beautiful in traditional Victorian homes.

Discover Our Full Collection
Once you have followed our tips and tricks on how to measure and find the right coving size for your home or space, have a browse through our full collection of coving. Whether you want to keep it plain and simple, or add some subtle details with a hint of pattern, we guarantee you'll find the perfect lightweight coving here at Wm. Boyle & Co.