How to Install 3D Wall Panels
Is your interior craving a pick-me-up? Look to the walls and make a statement. Installing geometric wall designs give you a modern and unique design aesthetic. Offering movement, depth and endless design opportunities, 3D tiles are the perfect cure for dull and boring wall canvases.
Commonly used in both commercial and residential interior design, 3D panels give your space statement, edge and flair. And our collection is elegant, stylish and affordable. Our geometric 3D styles are perfect for all modern interiors, from spacious studio apartments to contemporary new builds with small rooms. We've spotlighted 5 of our 3D Wall Panels that will give you some much needed interior wall inspiration!
3d Wall Installation
Wm Boyle offer two Cubi styled 3D wall panels; W102 and W103. The Cubi is one of our latest geometric 3D wall panels and offers consumers endless design opportunities. Whether you choose to install W102 on its own or alongside W102, you can create beautiful, statement wall art. From a bland, dull wall to a visual centrepiece. Both our Cubi wall designs come in white however, to match your current interior palate or mood, feel free to add a splash of colour.

If you're looking to create a real WOW factor in your home, think outside of the box when it comes to using wall panelling. We just love how W102 and W103 have been used to create this statement kitchen island.

Another geometric style that can be used to create a statement piece in any room is the W100 Rombus 3D Wall Panel. Again, this style could be left white, however you can enhance the charm and elegance of your space by using metallic paint effects and different textures to draw the eye and the light. With endless design opportunities, this design can be used to create sleek white wall patterns or playful art installations. We love this metallic masterpiece from Orac.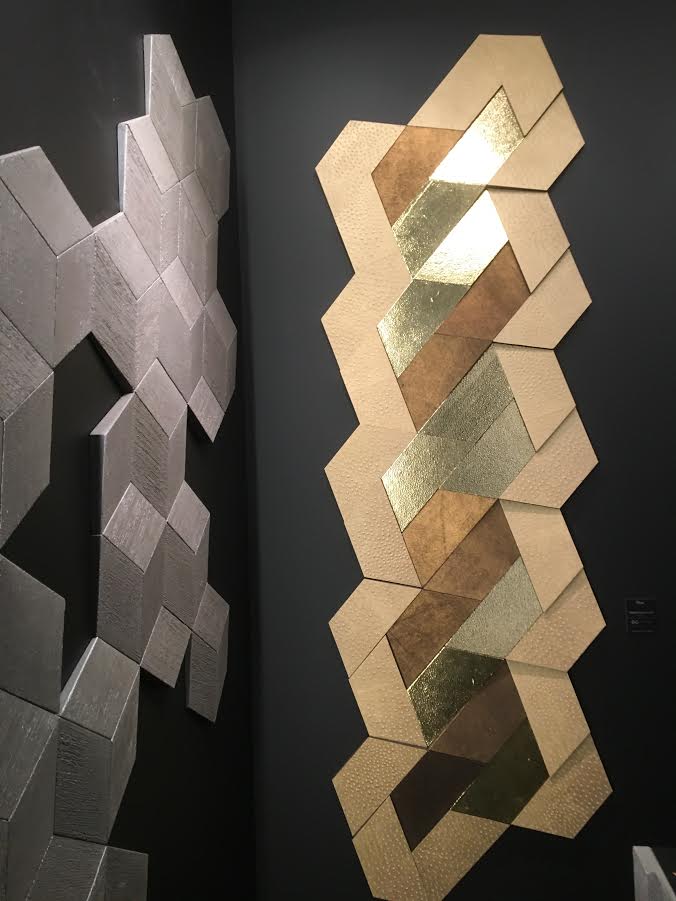 Create a vibrant and luxurious wall effect through the installation of our W108 Zigzag 3D Wall Panel. This style is a new addition to our geometric 3D wall panel range and offers consumers a unique visual effect. Whether you choose to create a full floor to ceiling wall feature, standard height panel or use on the ceiling to create a contemporary look, the design possibilities are infinite. Add a touch of flair to your period property with a zigzag design in your hallway or complement the modern ambience of your new build, our zigzag style is the perfect solution to your interior wall problems.  3D Wall Panel Installation Guide

If you like the zigzag effect, we would also recommend our W109 3D Valley Wall Panel which offers a similar texture and feel. The Valley is a recent addition to our 3D wall covering collection. The look and feel of your wall art should be personal to you and complement your personality. Our 3D Valley Tile offers you all the design freedom and flexibility you could wish for. With no strict design guidelines to follow, this style can be used to create a visual art piece or a modern take on half wall panelling. Take control of your interior and create a feature masterpiece with our simple yet aesthetic wall panels. 3D Wall Panel Installation Guide

The following video has more information on the installation of 3D wall coverings.
We've only listed a few of our 3D wall panel designs here, but if you're intrigued and want to see more styles, then visit our 3D Wall Panels page. Be creative. Make a statement and have fun doing it. For more inspiration, Pinterest and Instagram are the perfect platforms to search.
If you require any advice or wish to speak to an expert regarding which type of 3D wall panel would best suit your interior, please don't hesitate to call us on 0141 429 1218 or email sales@wmboyle.co.uk. We're always happy to give advice or help you with your wall panel requirements.