Description
Extra Small, plain, lightweight coving.  The 'Conwy' is an extra small coving and features linear lines with a near flat top.  We have supplied this to many customers who simply want a finish moulding for the top of their bathroom tiles.  It is lightweight and waterproof  making it the ideal choice for wet or humid areas.
This design is from our Orac Axxent range of polyurethane covings and is extremely easy to install.  This makes it the perfect choice for DIY enthusiasts  as well as plasterers, joiners and builders.  We supply all the adhesives and tools that you need to complete your coving installation.
We recommend this coving for ceiling heights of 2 metres or more.
Easy to install using our Orac adhesives – Cornice and Coving Installation Instructions
Product Size – 2.6cm High (Wall) x 1.5cm Projection (Ceiling)
Length – 2 metres
Material – Lightweight Duropolymer
TOP TIP – If you are installing any of our covings, skirtings or mouldings in a bathroom or kitchen area, please use FDP700 Hydro adhesive along with FX210 / FX200 jointing glue.
Please call or email if you would like a sample of this coving.
Product Enquiry
Downloads
Related Products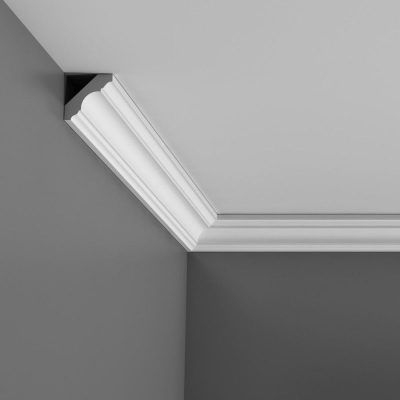 4.7cm High x 4.7cm Projection. Small plain cornice with swans neck shaped profile.  This is a popular choice for smaller rooms or bathrooms. All of our lightweight products are waterproof making them ideal for use in humid areas. Lightweight Purotouch. Supplied in 2 metre lengths.
6.9cm High x 1.4cm Deep. Small, plain, contemporary white skirting board.  This is a simple skirting which would be perfect for modern built properties.  Lightweight Duropolymer. Supplied in 2 metre lengths.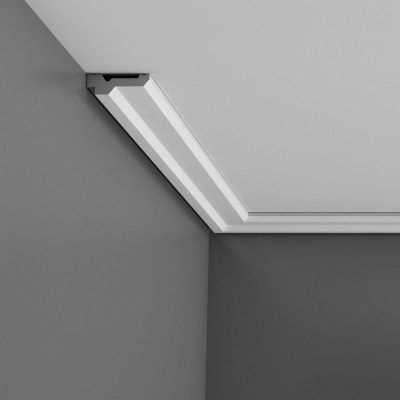 2.1cm High x 6cm Projection. Small plain, modern coving. Lightweight Purotouch. Supplied in 2 metre lengths.