Description
Traditional style dado rail / door architrave.  The DX174 is from our range of Orac lightweight products and is a classic size and style which would suit most homes.  It features a flat top with curved profile and it is perfect for use in both modern built and traditional styled homes.  It is also a popular choice with designers who specify it for shopfitting design or for use in other commercial designs.   It can be used as a dado rail, picture rail, door architrave, window architrave.
Our range of Polyurethane mouldings are highly durable, waterproof and are primed  ready for final coat of paint.
Product size – 6cm High x 2.2cm Projection
Length – 2.3 metres
Material – Lightweight Duropolymer
Easy to install using our Orac adhesives.
Also available in a flexible version (Supplied in 2 metre length)  for curved walls and bay windows.  Select the flexible option from drop down menu.
The flexible DX174F dado rail can be used along with the straight version so only order enough flexible for curved areas.
Please check our guide to ensure that the moulding will bend to your radius size. Flexible Mouldings Guide
TOP TIP – Our Orac period mouldings are waterproof making them ideal for use in bathrooms or kitchens.  Install using our FDP700 adhesive along with FX210 for joints/mitres.
Please call or email us if you require any advice when choosing your mouldings.
Product Enquiry
Downloads
Related Products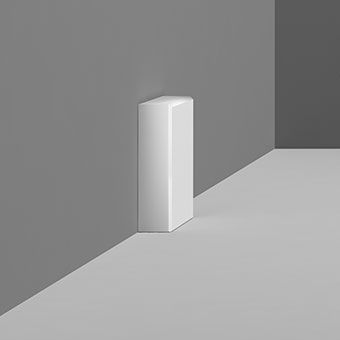 7cm Wide x 11cm High x 2cm Deep. Plain door plinth block to suit our door architraves SX157, SX159, SX162, DX174 or SX182. Creates a finish at bottom of door to allow you to run your skirting into. Lightweight Purotouch.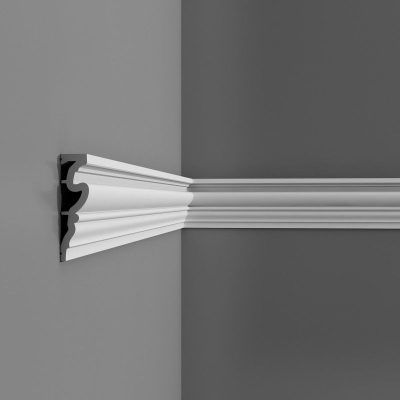 11.9cm High x 3.2cm Projection.  Large, plain, lightweight dado rail / architrave. This is our largest dado rail in the Orac lightweight range and looks fantastic used along with our wall panelling.  The longer lengths also make it perfect choice for use as a door architrave. Lightweight Duropolymer. Supplied in 2.3 metre lengths.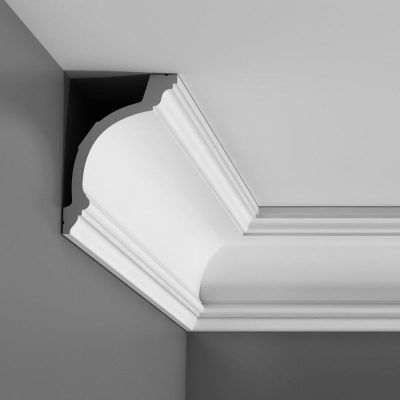 15.6cm High x 10.3cm Projection (Can be turned either direction.) Medium sized plain, swans neck, lightweight cornice.  This is one of our most popular cornice designs and fits in with both traditional and contemporary interiors.  This profile can be turned either way before fitting on the wall  making it ideal for different ceiling heights. Lightweight Purotouch. Supplied in 2 metre lengths.