New Product News
We have had such a busy start to the year and everyone is looking forward to the Easter break.  If you are planning updates to your home then there are some fantastic new products available in our lightweight range so we thought we would do a little spotlight on them for you.
Last year the SX171 cover skirting was fantastic seller so Orac have introduced two new profiles that can be used to cover old unsightly skirting or cables and wires.  The SX185 is a modern skirting and features a soft rounded top.  The SX186 is a classic ogee style skirting and with a height of 13.8cm is perfect for both new build and traditional properties.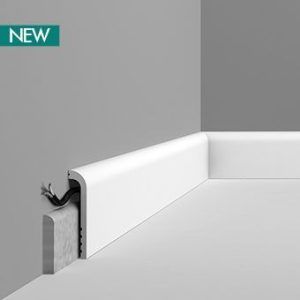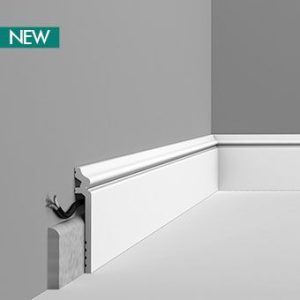 Our ever popular CX106 and CX123 coving profiles are now available in a flexible form.  Our flexible covings are the ideal choice for finishing around curved walls or bay windows.  Simply order the amount of flexible coving you need for the curve and use the standard straight profile around the remainder of the room.
MULTI-FUNCTIONAL PROFILES
The multi-functional profiles have been growing in trend over the last year and now we have three new profiles added to the range.  The Cascade range of profiles (DX182, DX183 and DX184) feature a flat face with a softly rounded edge.  They can be used as a contemporary style coving, wall moulding, skirting board and door architrave.  Using as both a skirting and door architrave creates a truly modern look and you can integrate the moulding seamlessly from floor to around the door.  All three are listed under contemporary coving, skirting and architrave sections.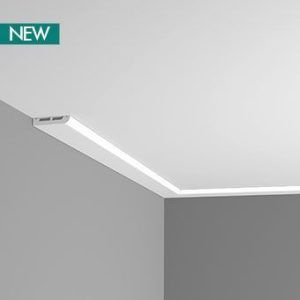 Dx183 Multi-Functional Profile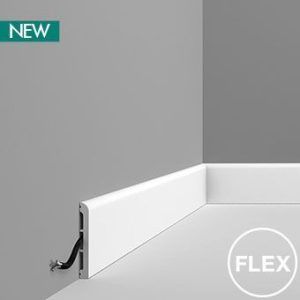 DX184 Multi-Functional Profile
DADO RAIL / PANEL MOULDINGS / DOOR ARCHITRAVES
There are two new additions to this range.  PX175 is a plain moulding which can be used as small dado rail or use to create panelling on walls or ceilings.  This is made in Duropolymer so gives a cost effective option for creating your design.  The DX174 is a smaller version of the popular DX170 and can be used as a dado rail, picture rail or door architrave.  It is supplied in longer 2.3 metre lengths