Description
Decorative overdoor pediment featuring flowers and a lovely scroll design.  This decorative moulding can be added to an existing plain door surround to create a more ornate feature.  Many of our customers have used to finish the front of a curtain pelmet or within a decorative headboard design.  This moulding is quite versatile so let your imagination flow.
DESIGN IDEA: Add this pediment above a plain wall panel to create a stunning French style wall feature. If the size is too long then you can cut it down to suit.  Lightweight Purotouch.
105cm Wide x 24.5cm High x 3.2cm Deep.
Product Enquiry
Related Products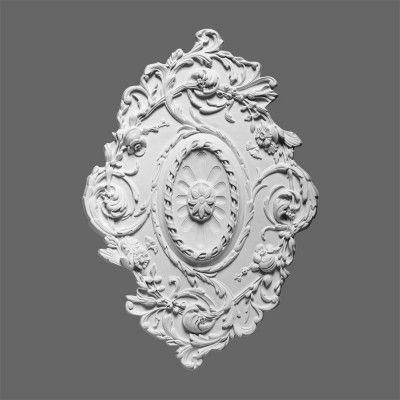 77 x 52.5cm Diameter. Decorative oval shaped lightweight ceiling rose. This is perfect style for unusual shaped or longer sized rooms. Perfectly designed so most standard light fitting units fit over the small flower in the centre of this ceiling rose.
Lightweight Purotouch.