Description
Small, classic,  uplighting coving / cornice.  This plain profile is part of the ever growing Orac range of concealed lighting coving.  The C323 is perfect if you want to create a lighting border around the room without being too contemporary looking.  Use with any LED tape or rope to create a wonderful lighting effect on both the wall and ceiling.  Perfect for smaller sized rooms or for properties with lower ceiling heights.
Simply drop the uplighting cornice approximately 12-20cm from the ceiling and install using any LED rope or tape lighting system.
Product Size – 5.5cm High (Wall) x 4.2cm Projection
Length – Supplied in 2 metre lengths
Material – Lightweight Purotouch
TOP TIP – Install using our FDP700 Hydro adhesive along with the FX210 extra strong glue to hold together the joints and mitres.
Please call or email if you would like a sample of this uplighting cornice.
** LED lighting not included with product.**
Product Enquiry
Downloads
Related Products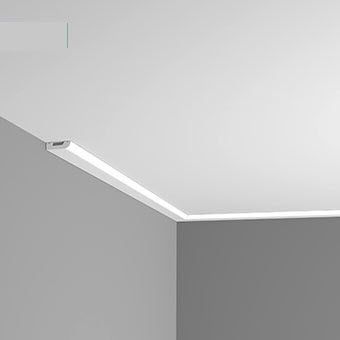 1.3cm High x 5cm Projection.  Small, minimalist, lightweight coving with soft rounded edge.  Part of multi-functional range which can be used as skirting, architrave and wall moulding. Lightweight Duropolymer. Supplied in 2 metre lengths.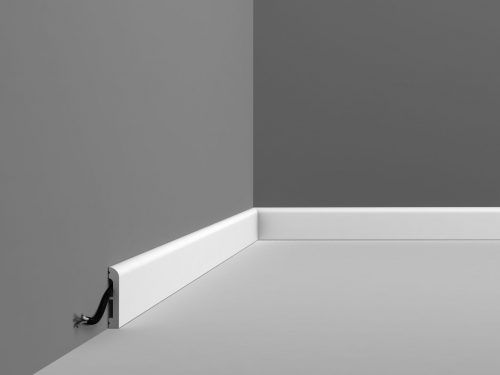 7.5cm High x 1.3cm Deep.  Plain, contemporary style, skirting board.  This design is part of our Cascade multi-functional profiles and can be used as skirting, door architrave and coving.  This skirting is ideal for hiding unsightly cables and wires. Lightweight Duropolymer or Flexible Duropolymer. Standard material supplied in 2 metre lengths / Flexible supplied in 2 metre lengths.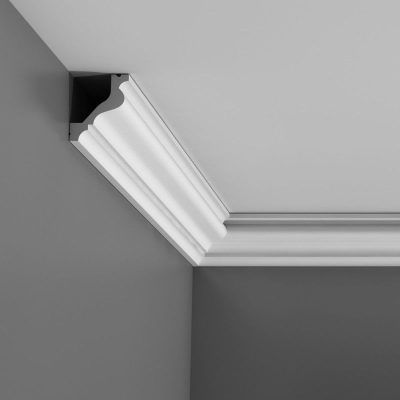 6.5cm High x 5.7cm Projection. Small, plain, lightweight cornice.  This is a popular choice for rooms with ceiling heights of 2.2-2.4 metres. Lightweight Purotouch. Supplied in 2 metre lengths.