Description
Our external cornice and coving range are the perfect choice for finishing under the eaves of a roof or above a dormer window.  The sharp detail works perfectly with Georgian or Victorian style building facades and is also ideal for large new build properties. This external moulding features a tall elegant profile with flat section along the bottom and swans neck shaped profile along the top. .  This exterior coving can be turned in either direction to suit requirements.  Our exterior covings are made in high quality polyurethane and are pre-finished with a white automotive paint finish but can be painted once installed to suit the colour scheme of the building facade.
Supplied in 2 metre lengths. Easy to install using our Orac adhesives.
23cm High x 11.4cm Projection. Lightweight Purotouch with white external paint finish.
The Orac Xterio range of covings and cornice for external use are normally held in stock and available for delivery within 2-3 working days to UK Mainland (Highlands & Islands slightly longer.)
TOP TIP – If you are going to be painting the exterior coving once installed, why not just buy our standard Luxxus cornice or coving and finish with your choice of specialist exterior paint.  This means that you are not paying a premium for the special white paint finish which we have sprayed onto our Xterio range. The standard version of this exterior moulding is C332 which can be found in our Coving section.
Product Enquiry
Related Products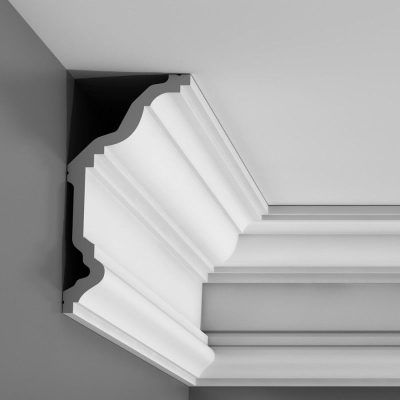 23cm High x 11.4cm Projection (Can be turned either direction.) Large, plain classic, lightweight cornice.  Perfect for traditional style properties with tall ceiling heights. Lightweight Purotouch. Supplied in 2 metre lengths.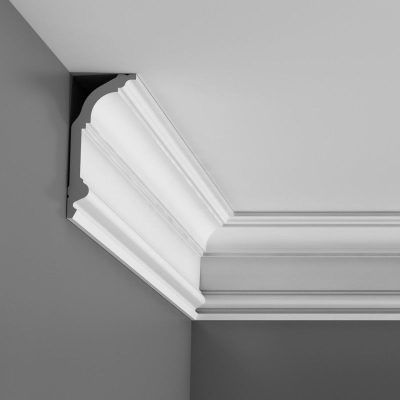 14.1cm High x 6.4cm Projection. Medium sized, plain, Georgian style cornice. Lightweight Purotouch. Supplied in 2 metre lengths.